Solution for ERP, CRM, HR, Project and Service.
Business applications in a unified framework that provides value to the entire organization.
Microsoft Dynamics 365,
ERP and customer applications in a single framework
Applications within ERP, CRM, HR, project and service.
The applications are part of a single framework, Dynamics 365, and can function independently or together with the other applications within Dynamics 365.
What is Dynamics 365?
Microsoft Dynamics 365 is a suite of cloud-based ERP and customer related solutions. In addition to traditional ERP and CRM, other applications are also included the framework, including customer support, supply chain, production, service, project management, HR and the entire customer journey. 
Some of the functional areas that previously existed in the ERP solution Dynamics AX have now been turned into independent applications that work either independently or in connection with the other applications in the Dynamics 365 suite – and with mutual integration. 
Another group of applications is gathered in a Customer Engagement framework. This applies to CRM and service, incl. field services as well as project management. 
Watch the video to the right or get an overview of the elements in Dynamics 365 in the figure below. 
Explore the entire Dynamics 365 framework
Efficient and flexible ERP platform
Dynamics 365 effectively supports collaboration across the organization and can grow with enterprise needs. Dynamics 365 consists of both ERP applications and Customer Engagement applications. Dynamics 365 is closely linked to Microsoft's Power Platform. Learn more about the individual elements and functions by clicking the links in the figure. 
Click the illustration and read more about Dynamics 365. 
The composition of Microsoft Dynamics 365
The applications in the Dynamics 365 framework are grouped into two main areas and work together with the underlying Microsoft Power Platform.
ERP-applications in Finance & Operations 
The ERP applications of Dynamics 365 are grouped under the name "
Finance and Operations
". It contains the traditional ERP disciplines, including finance, accounts receivable, accounts payable, logistics and production, project management and retail.
Dataverse 
Microsofts Dataverse is formerly known as "Common Data Model". It does not appear in the illustration, but it is a significant building block that is the basis of the entire Dynamics 365. Dataverse are under constant development but a lot of data – or so-called entities – is already shared through the Dataverse.  Sharing of data therefore becomes easier, and Dataverse facilitates the integration between the Dynamics 365 applications. Dataverse can also be used to share data with third party applications.
Power Platform
Microsoft's Power Platform includes the very useful applications: Power BI, Power Automate (Flow) and Power Apps. Power BI is used to display, combine and present data from – and in – all the 365 applications including third party applications. With Power Automate (Flow) it is possible to create flows that can streamline the company's business procedures and processes. Power Apps allows you to develop new functionality and build standalone applications.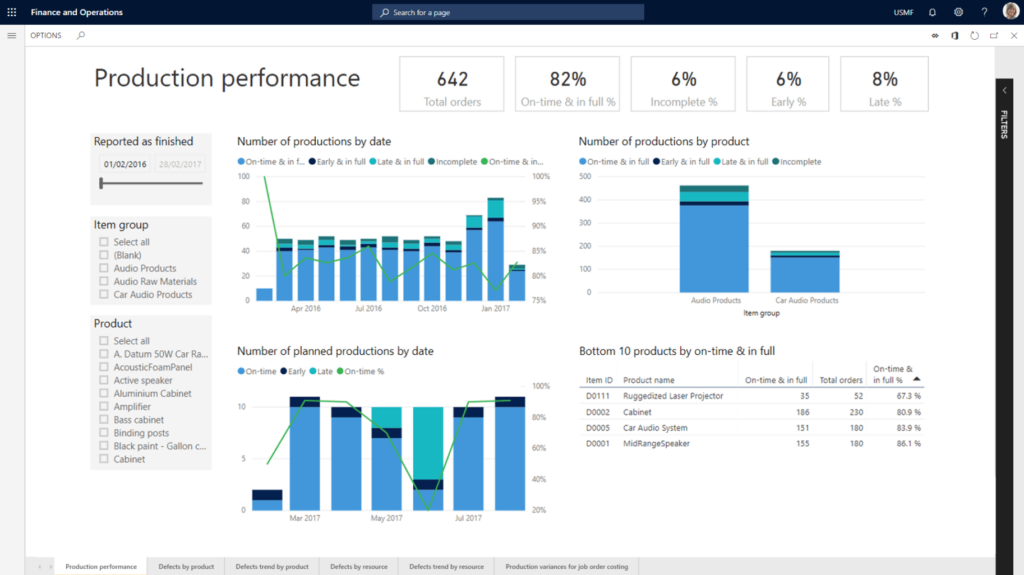 About Dynamics 365
Dynamics 365 is based on monthly subscriptions per user. This means that it is easy to expand the number of users and later again, permanently or seasonally, choose to scale down the number of users. 
With Dynamics you get access to visual overviews in the application.  The Dynamics 365 applications are connected to the Power Framework, where there is access to both Power BI and to create flows and standalone applications. It underpins the company's agility, efficiency and possibilities with the Dynamics 365 application. 
In terms of security Dynamics 365 is top notch. Both the ERP solution and the other applications are hosted in Microsoft's cloud on an Azure platform. There is access to a number of monitoring tools allowing you to react to possible threats quickly. 

Role-based work spaces provide efficiency in everyday life and offer intelligent automation of daily processes. Your business simply becomes more efficient with the right tools. 

Dynamics 365 – a part of Microsoft's cloud
Microsoft's Dynamics 365 can be purchased as an on-premise version, but standard it is part of the Microsoft cloud. 
The cloud solutions come with a number of benefits. In addition to the fact that the number of users can be continuously changed in a cloud solution, the need for investments in additional hardware and standard software is minimized with Dynamics 365 as cloud solution. In short, costs for investments and resources for hardware/software is reduced. 
The cloud solutions ensure that the Dynamics 365 applications are updated with the latest functionality and the latest features in the application. The solution is on Microsoft's Azure platform, which means that it is up-to-date in terms of security and it is no longer necessary to worry about backing up your data. The somewhat more frequent updates require testing, but in return, to gain access to new functionality, you do not have to go through the very resource demanding and expensive updates that are known from previous ERP solutions.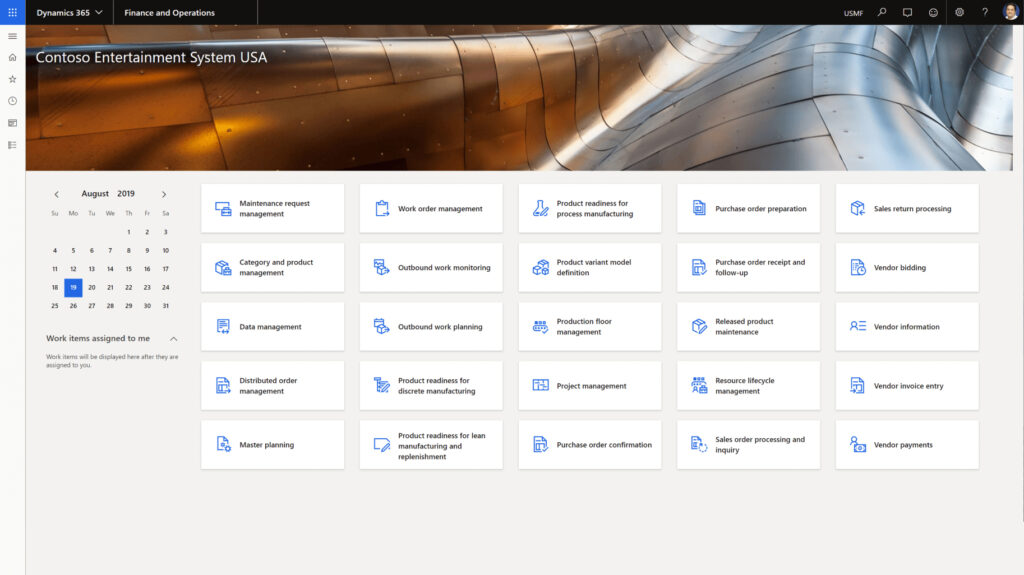 The Prices of Dynamics 365
How much is a Dynamics 365-solution?
It is relevant for most organizations to know what a potential new solution costs.
License prices.
Microsolutions helps with price indications on Dynamics 365 (D365). By following this link, you can get indicative license prices from Microsoft, but there are pitfalls and many factors that influence the price significantly, including type of license program, type of users, the possibility of merging licenses or buyback. 
It may also be relevant to include a price for assistance with the implementation, internal resources and maintenance.
Get a qualified price indication
That is why we recommend that you contact us. We give an indication of what your company can expect in terms of prices and the things that should be brought into play. A final price will require more work from both parties, but we would like to jump in wherever you may be in the process and give you a preliminary bid. Call +45 75 60 24 80 or fill out the form to the right.
Yes please,  
I would like to know more about prices of Dynamics
 365.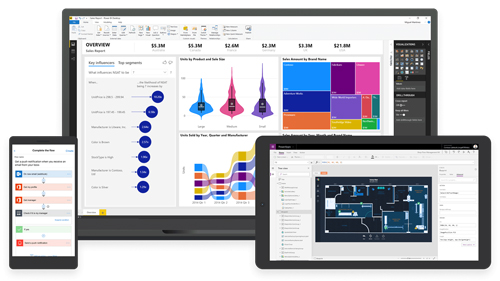 Power-BI
The Dynamics 365 suite is closely linked to the Power framework, including Microsoft Power BI.
With Power BI it is possible to expand views and dashboards both within and without the Dynamics 365 applications. Data can be presented, combined and displayed so that they provide the greatest value for the individual company. 
Get started quickly with Power BI
Use the Microsoft data warehouse for Dynamics 365 for Finance and Operations. It contains validated data entities ready to use. Get started with Power BI in a few days. 
Ask Microsolutions

– we are experts
in Dynamics 365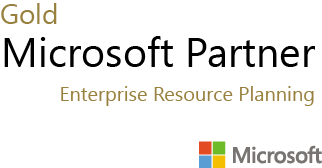 Dynamics 365 in Microsolutions
Microsolutions consultants offer in-depth knowledge of the features and architecture of Microsoft Dynamics 365, both the elements of ERP and the Customer Engagement applications. In recent years with Dynamics 365, and previously with Dynamics AX, we have gathered experience from multiple implementations in both Denmark and abroad. This ensures that your company gets a thorough and solid solution that creates value. We are proud of and humbled by our long-standing customer relationships. We strive to be an agile, accessible and proactive partner. You can always rely on the professionalism of the advice we provide.
Microsolutions offers to manage and implement the entire Microsoft Dynamics 365 project from start to finish. Our work is based on our well-proven project method and we act as a sparring partner throughout the process. Upon completion of the implementation, Microsolutions will be available with the necessary operational support and service – tailored to meet your business needs.
Contact
If you are interested in knowing more about Dynamics 365, please contact Microsolutions for a no-obligation dialogue. Call +45 75 60 24 80 or fill out the form below.