What is Microsoft Power Platform?
Microsoft Power Platform is a software-as-a-service (SaaS) that, with the technologies it is built on, can pave the way for a digital transformation.
The platform is a collection of Power BI for analytics, PowerApps for app development and Power Automate, its workflow automation engine.
It's simple to work with the Power Platform, which, with intuitive tools, makes it easy to customize and expand apps so that they always meet the needs of the business, even when it changes.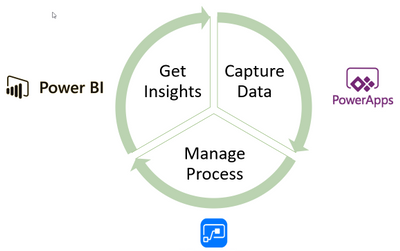 In a data-driven culture where decisions often have to be made quickly, this means that businesses can analyze and transform data into insightful visualizations so that they are made on a solid data base with Microsoft Power BI.
Use the Power Platform to automate daily processes across applications, popular apps and services in just minutes with Microsoft Power Automate.
Tie the entire business together in five Dynamics 365 model-driven apps, all out of the box PowerApps built on the Power Platform, and get a 360-degree overview of customer interaction and communication.
Common Data Service
Common Data Service (CDS) is a cloud scale database that standardizes data using the Common Data Model. It securely stores and manages data in a set of entities, each with a set of data records, where data is represented as a set of fields. 
CDS comes with a number of standard entities that all applications make use of because it is easier to implement and use applications that use the same data. An example of two well-known entities that may not necessarily be accessible from all the different systems are customers and contacts.
With CDS, data resides in both custom and standard entities, all stored in a common data service. It provides secure cloud-based storage and consistent data representation across all Dynamics 365 applications.
Use CDS for more than just Data Storage
It also paves the way for applying business logic that enforces rules, based on individually defined business processes that ensure data quality.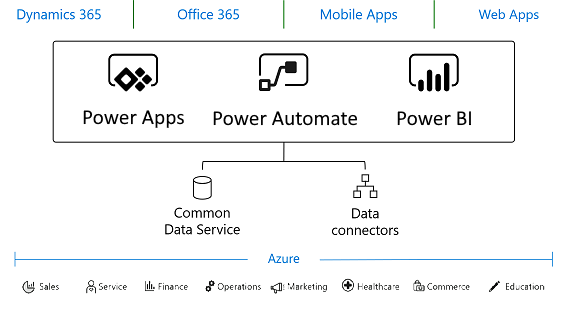 Common Data Model
Optimize the use of business data 
Many applications share the need for data modeling, but that does not mean they speak the same language.
The Common Data Model (CDM) consists of standardized data schemas that define more than 200 of the most commonly used entities, such as customers and contacts. 
Since the Dynamics 365 applications all make use of a common data language and a common data model, it is easy to adapt them to the need across business areas.
Power Platform and much more than that
Explore the entire Microsoft Dynamics 365 framework by selecting areas from the figure below.
Efficient and Flexible Platform
The Power Framework is closely integrated with the entire Dynamics 365 and the individual applications in Dynamics 365. The overall platform effectively supports the collaboration across the organization and can grow with the company's needs.
Click in the illustration and read more about Dynamics 365 and the Power platform.
Want to know more about Power Platform
?
Call us on +45 75 60 24 80 or fill out the form below and we will contact you.