Dynamics 365
Field Service
Optimal Management of External Service Tasks
Optimize resources and create an overview of calendar and tasks with Dynamics 365 Field Service.
Dynamics 365 Field Service automates the planning of work orders to match the customer's need for technical skills, priority and location.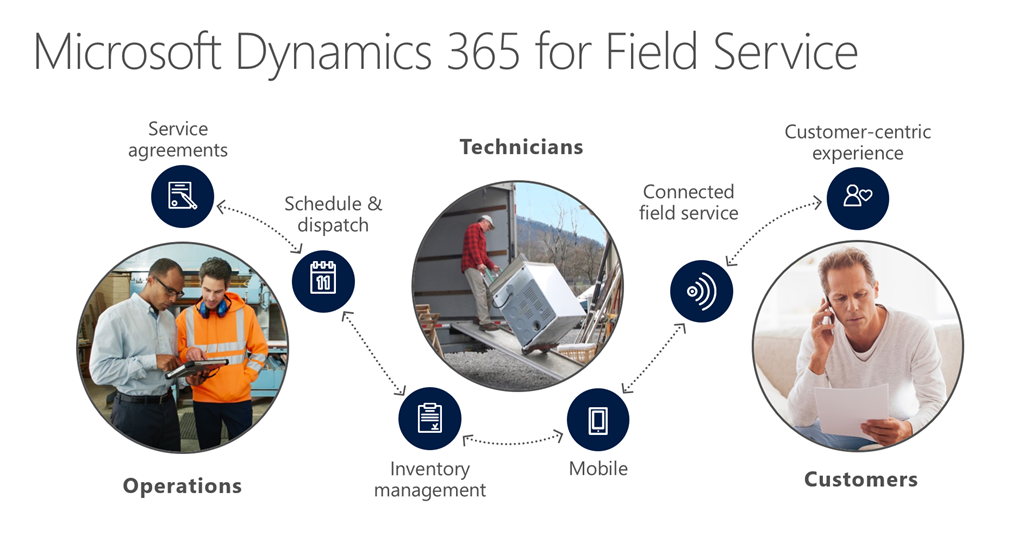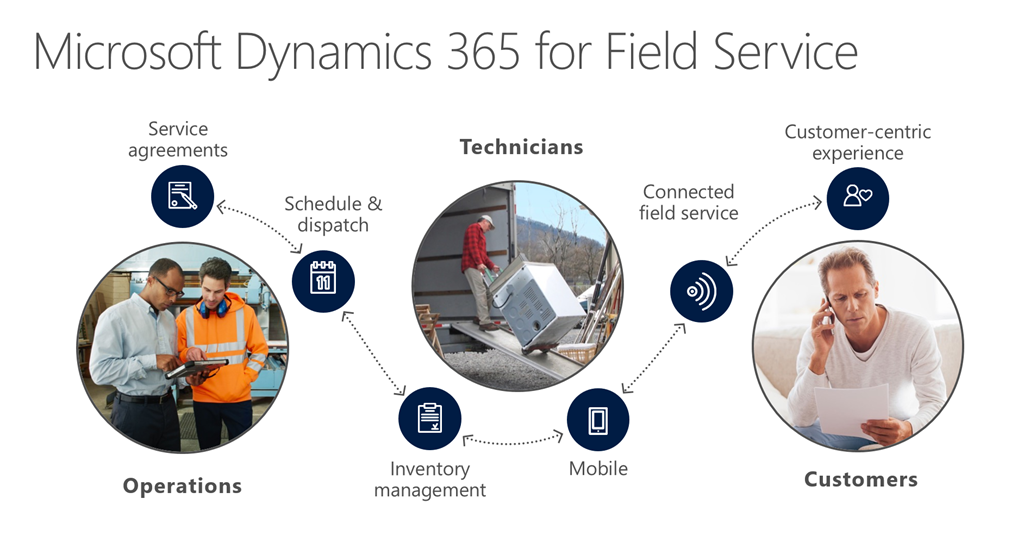 How Dynamics 365 Field Service works
Minimize Wasted Time in the Calendar
Dynamics 365 Field Service uses IoT and predictive technology, which enables dynamic planning of service visits based on needs, rather than static scheduled visits, which sometimes prove unnecessary.
Easy access to work orders and 360-degree display of real-time data
Whether it is directions, work order information, or a 360-degree view of the customer, it is sent directly to the technicians on their mobile devices. Work orders can be viewed from any platform or location and updated by the technicians onsite in real time.
With Sales, the sales manager gets the opportunity to follow the activity on their customers' support case, and Marketing can automatically send a satisfaction survey when the task is completed.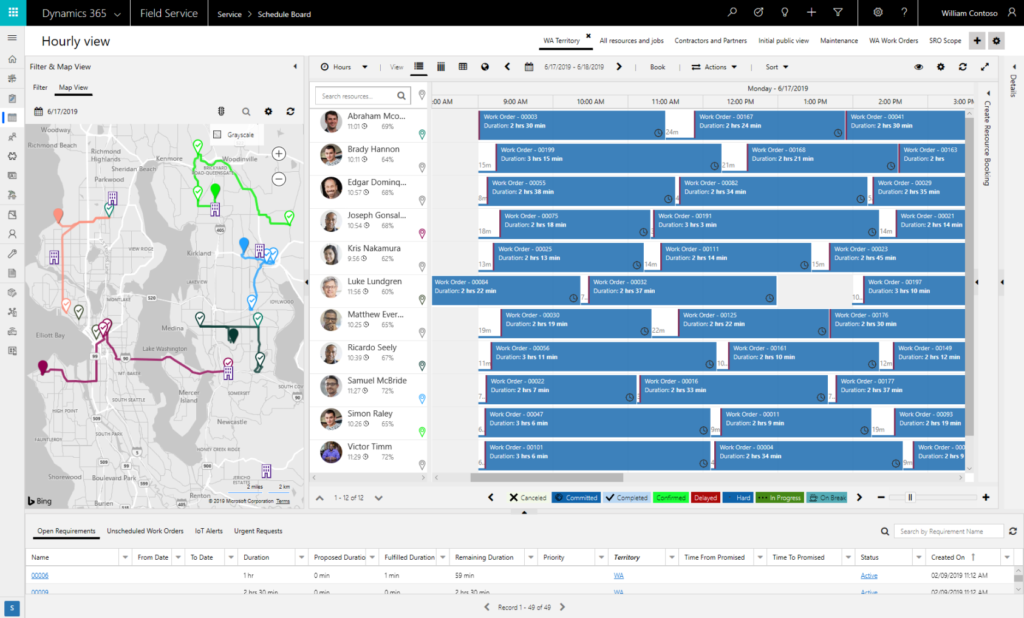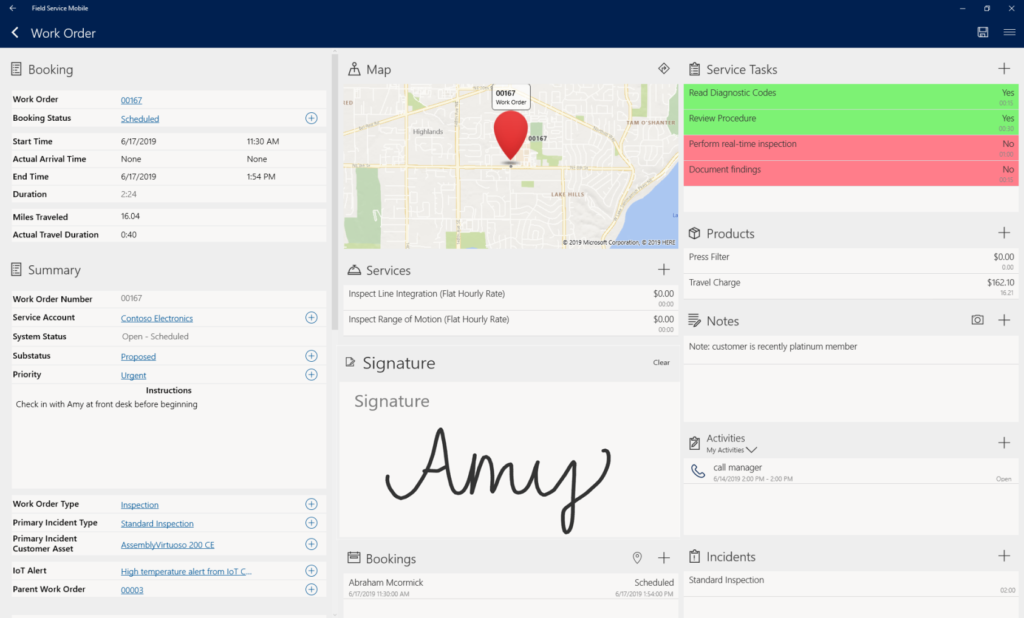 Good service creates trust
Customers can have their own user interface, where they can plan and keep track of service activities, just as they can gain access to offer, contract and planning information.
The application also makes it easy for technicians to streamline the handling of work orders by updating and entering data directly via their mobile device at the customer's location.
Real-time data ensures the best use of time possible.
Solve the complex problems
The latest technology, Dynamics 365 Remote Assist on HoloLens devices, enables technicians being physically at the customer's location to keep their heads and hands free while sharing what they see with specialists and experts. Mixed reality is both video calls, annotations and file sharing. All technologies that should give the technicians the best conditions to solve the customer's problems the first time.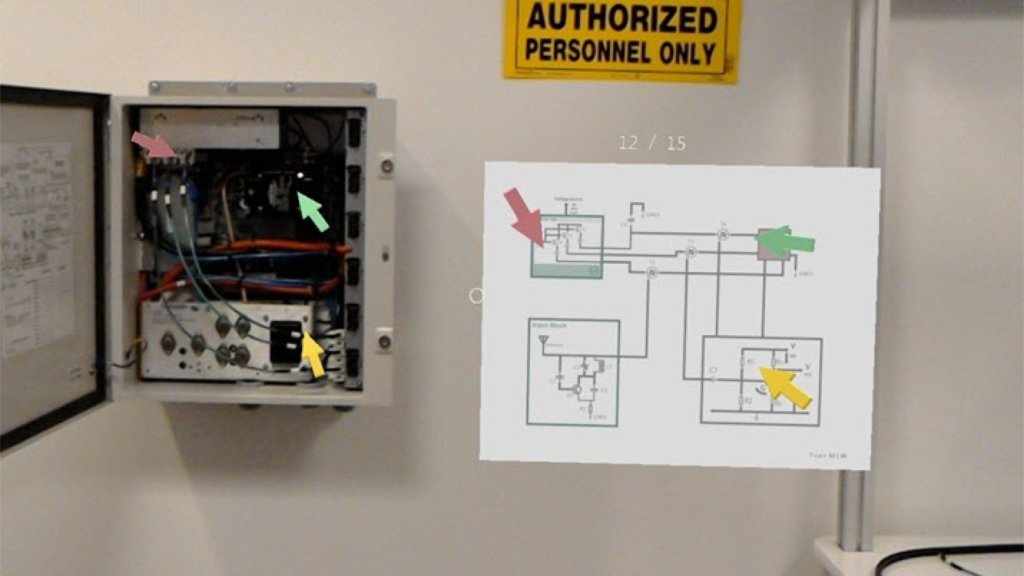 Field Service and so much more
Explore the entire Microsoft Dynamics 365 framework by selecting areas from the figure below.
Effecient and flexible platform
Dynamics 365 
consists of both
 ERP-applications
 and Customer Engagement applications. Based on your company's needs, applications from the Dynamics 365 framework can be chosen to supplement the functionality and support collaboration across the company and throughout the company's supply chain.
Learn more about the different applications and options by clicking  the figure.
Want to know more about Field Service?
Call us on +45 75 60 24 80 or fill out the form below and we will contact you.