Microsoft Dynamics 365
Supply Chain Management
Production, location and warehouse management 
Dynamics 365 Supply Chain

The Supply Chain Management application offers functionality in the areas of production management, warehousing, warehouse management and transportation. The application is closely integrated with the other applications in Dynamics 365
Requirements for Logistics or Production Management?
Does your company require functionality in production management or logistics? Then Microsoft Dynamics 365 Supply Chain Management is a good starting point. Dynamics 365 Supply Chain is the replacement for the logistics and production part of Dynamics AX. The broad and deep functionality of Dynamics AX has been passed on to Dynamics 365 and is continuously being further developed. Among other things, the following areas are well developed into the solution:
    • Inventory management
    • Master Planning
    • Production control and planning
    • Item information and tracing
    • Transportation management a.o.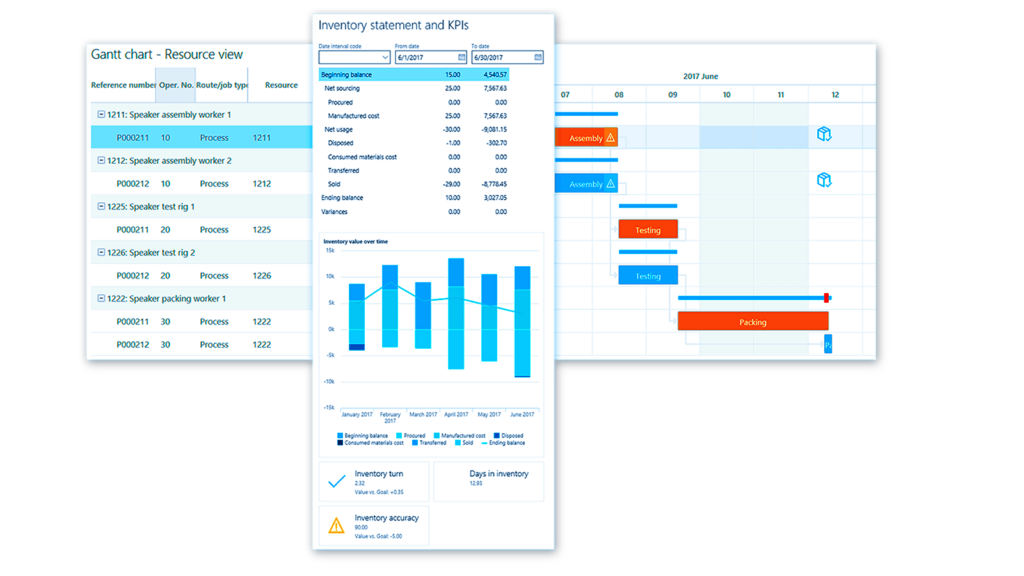 Efficient Logistics
Dynamics 365 for Supply Chain Management combined with Finance, gives you the tools to provide optimal customer service. From quotation and order placement to delivery to the customer as well as after-sales and service, the solution makes the tools available. Advanced warehouse management features support the picking and shipping processes efficiently.
Get a 360-degree view of your supply chain across warehouses and ways of transportation
Microsolutions is ready to assist with guidance in advanced logistics and warehouse management.
Industry 4.0 with Dynamics 365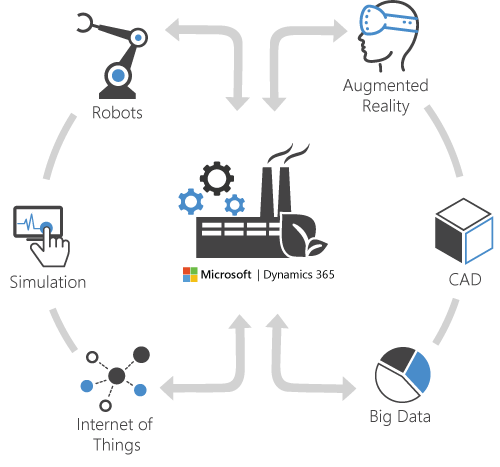 Achieve Advantages with Industry 4.0 and a Coherent Production Landscape
Dynamics 365 Supply Chain Management provides rich opportunities to actively work with Industry 4.0. The solution offers ideal conditions for integrating Dynamics 365 Supply Chain Management and other platforms. Retrieve and share data with robots, MES and monitoring solutions, CAD solutions and the "Internet of Things". Use and combine data with your other data in Dynamics 365 Supply Chain Management.
For an easy setup and maintenance of integrations, use the Microsolutions Integration Framework.
If you want to know more about the possibilities with Industry 4.0 and
Dynamics 365
, contact Microsolutions. We are happy to provide input and inspiration.
Production Overview
Dynamics 365 effectively supports the entire production process, both series and order production, with individual configurations as well as process-oriented production methods within food, medico, chemistry and plastics.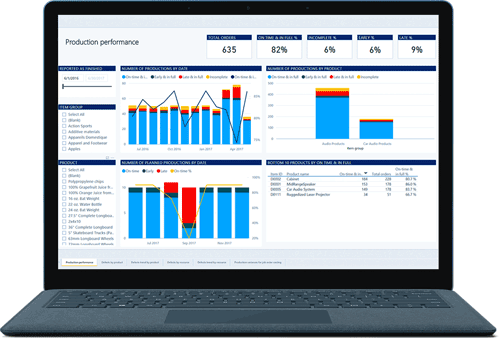 Explore the Entire Dynamics Framework
Efficient and flexible ERP platform
Supply Chain Management, together with several other applications, forms the complete Dynamics 365 framework. Make use of the many possibilities that lie in using the other applications in the framework incl. Power Platform at the bottom.
Click in the illustration and read more about the applications in Dynamics 365.

Ask Microsolutions –
we are experts
in Dynamics 365
Dynamics 365 in Microsolutions
Microsoft Solutions' consultants have in-depth knowledge of the features and architecture of Microsoft Dynamics 365, including logistics and manufacturing. In addition to professional advice, we offer add-ons that can make everyday life easier for logistics, trade and production companies.
Microsolutions offers to manage and implement the entire Microsoft Dynamics 365 project from start to finish. Our work is based on our well-proven project method and we act as a sparring partner throughout the process. Upon completion of the implementation, Microsolutions will be available with the necessary operational support and service – tailored to meet your business needs.
Contact
Contact us for a dialogue about the possibilities with Dynamics 365.
We are available if you want more knowledge about the functionality of Dynamics 365, estimates and price indications. Fill out the form below or contact us by phone +45 75 60 24 80.