Energy & Service
Dynamics 365 optimizes the management of the business with access to all relevant information.
Dynamics 365 for Utilities and Service Companies
– optimizes the company's operation and service.
Microsoft Dynamics 365 Finance and Operations creates transparency and offers unique management tools throughout the enterprise. It is for both finance and purchasing, service and projects. Dynamics 365 Finance and Operations provides a solution that optimizes workflows across the entire organization.
Strong Financial Management
Dynamics 365 Finance and Operations provides well-developed tools to support the well-known financial functions. Create an overview and increase efficiency with advanced bookkeeping, budgeting, outstanding management, expense management, liquidity management, reporting, consolidation and financial reporting with Dynamics 365. The finance application is extremely well developed in these disciplines, so expect both broad and deep functionality.
Furthermore, thanks to the interaction with the powerful Power BI tools, data can be presented in clear dashboards and give both management and the individual employee insight and management tools.
Read more below or contact us for a thorough introduction to the functions for Energy and Service companies.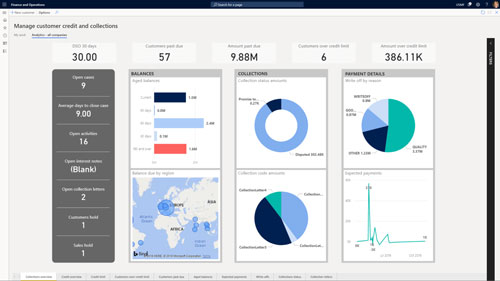 At the Forefront of all Projects
Dynamics 365 has tools that handle the many facets of project management.
Utilize the intuitive functions for planning and follow-up on projects with management of resources, schedules and progress in projects – as well as ongoing follow-up on expenses, resource consumption and finances in the project. There are extended tools that provide an overview of all or parts of finances and projects. With the powerful management tools, you get optimal opportunities for follow-up and corrective actions while there is still time.
SEV is the largest energy supplier in the Faroe Islands. Located in the middle of the North Atlantic, Faroese live in coexistence with nature. As the main supplier of energy, SEV has faced the challenge of meeting the sustainable energy challenge. The combination of hydropower and wind power makes 50% of the Faroese energy supply sustainable. 
SEV has Dynamics 365 Finance and Dynamics 365 Supply Chain from Microsolutions. As part of the project, integration has been made for the charging stations, so that data flows directly into Dynamics 365. The integration for charging stations helps ensuring the company's position among the leaders in green energy.
Birgir Christiansen, Roknskapardeildin in Elfelagið SEV
"We trust Microsolutions. They know our business and needs, and always manage to find a solution that suits the method and the processes that we – as a utility company – work with."
Integrate Billing and Monitoring Systems with Dynamics 365
Extract data and connect relevant systems with Dynamics 365 Finance and Operations. With Microsolutions Integration Framework, you get all the benefits of coherent systems and datasets by integrating e.g. billing and settlement systems or IoT, monitoring solutions or completely different solutions with Dynamics 365 Finance and Operations
Get in touch and learn more about Microsolutions' Integration Framework, which, in a simple and secure way, can establish valid integrations and facilitate subsequent maintenance of the integrations.
The Processes in Service- and Supply Companies are Efficiently Supported in the Dynamics 365 Framework
Efficient and flexible platform
Many of the processes in Service-oriented companies as well as companies within energy supply can be streamlined with tools from the Microsoft Dynamics 365 suite, which can be found in an overview here. Special mention may be made of the applications "Finance", "Project Operations", "Field Service" and "Customer Service".
Microsolutions is happy to provide input on how your business can be streamlined using Dynamics 365.
Click in the illustration and read more about Dynamics 365.

Efficient Tools for Service Organizations
Dynamics 365 and Service
With the Dynamics 365 Suite, employees get the ideal tools to provide top-class service to the company's customers.
With foundation in the ERP system Dynamics 365 Finance and Operation , supplied with the applications for project management,  Field Service for managing external locations and the Customer Service application for the management of customer inquiries, tickets etc. the company obtains strong digital systems to support the entire service organization.
Optimal service for customers
The wide range of service functionality in Dynamics 365 gives the company's employees the optimal service tools, which provides satisfied customers.
The solutions offer extended functionality, including everything from ticket systems, telephone and online support management, device and case history, scheduling and visits by technicians and installers, route planning and even the possibility of online video support for technicians in the field.
Contact Microsolutions for further dialogue and sparring.

Maintenance and Service on Internal Systems
With Asset Management for
Dynamics 365 Finance and Operations
, you get really nice tools for the maintenance of the existing plant, installations, machines and equipment. No matter if maintenance is scheduled or "on-demand". Maintenance can be planned based on competencies, locations and types. Time spent can be recorded and history tracked on all devices.
Choose a Dynamics Partner with Field knowledge

Get a partner who knows processes, solutions and architecture in the field of supply and service business. Microsolutions has experience and competencies in this sector and a detailed knowledge of processes, value chains and common workflows.
A close, trust-based collaboration is for Microsolutions one of the cornerstones when we implement a new ERP system. Our experience shows that long-term relationships create value and a better solution. Our long experience with the development and establishment of Dynamics ensures that you as a customer get a well-thought-out and solid solution that creates value for the entire business.
Microsolutions offers to manage the entire implementation of the Microsoft Dynamics 365 project from start to finish. Our starting point is our well-proven project method, which in connection with Microsolutions' process tool "Workmodel" makes a difference – both during and after implementation. Microsolutions acts as a sparring partner throughout the process. Upon completion of implementation, Microsolutions will be available with the necessary operational support – depending on the company's needs.
Contact
Contact us to hear more about how we can add value to your business by phone: +45 75 60 24 80 or fill out the form below.