How to use Microsoft Power BI for Dynamics 365
Microsoft Power BI
Make use of data and gather the overview in one place.
With intuitive layouts and views of data, the entire company can gather valuable knowledge to make the right decisions. With Power BI, data from the entire Dynamics platform can be compiled and combined – also with data from external systems.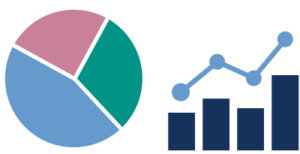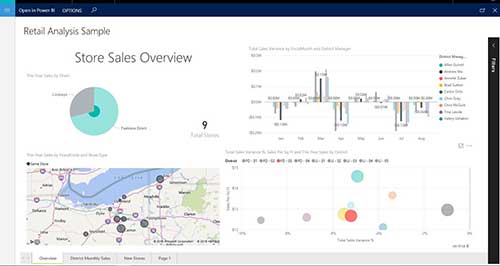 Get a data-driven Business
Avoid making decisions based on guesses or gut feeling. With Power BI, decisions can be based on facts, concrete figures and knowledge. A data-driven Power BI solution makes decisions simpler and safer. Visualize KPIs and make it easy for both management and employees to access reports and views in dashboards on phone, tablet and laptop. Power BI is part of Microsoft's Power Framework and closely linked to the entire Dynamics 365, both the ERP solutions and the solutions that are part of Customer Engagement.
3 Ways to Gain Value with Power BI and your Dynamics 365
Turnkey Solution for Dynamics 365
If the company uses
Dynamics 365 Finance and Operations
and has a desire to get started quickly, you can do so by starting from a data warehouse, with validated data based on finished data entities. It only takes a few days to get started. Get fast value for your data with Microsoft Solutions' complete data entities / definitions for Dynamics 365.

When establishing a Power BI solution for Dynamics 365 Finance and Operations, many choose to start from Microsolutions'
finished data entities / definitions (marked above with the prominent blue). It is a shorter way to get to the finish line with your own
data warehouse, and you can obtain a number of ready-made reports / views (balance, statistics, etc.) for the solution. You choose whether Microsolutions should develop special reports, or your company will get started on its own using the detailed manual that comes with our solution.
Get an Overview to Make Decisions
With Microsoft Power BI, you can get started quickly with a business intelligence solution that provides valuable knowledge about your business in selected areas. Power BI can be advantageously combined with other services from Microsoft including PowerApps and Microsoft Flow. Microsolutions is happy to help guide you through options.
How to use Power BI
See in the video to the left how a report in Power BI is made.
Views on Different Types of Devices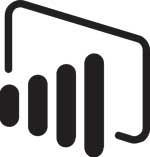 Power BI in Microsolutions
Microsolutions offers dedicated Power BI consultants. We are also experts in
Dynamics 365
and
Dynamics AX
and know the data base in these solutions well. This means that we have the best conditions for making valid Power BI solutions for precisely these applications. For the ERP solution
Microsoft Dynamics 365 Finance and Operations
, we can offer turnkey Power BI solutions, which can of course be adapted to the company's individual needs.
Contact 
Want to hear more about Microsoft Power BI and the possibilities associated with Dynamics 365 or other solutions? Contact us by phone +45 75 60 24 80 or fill out the form below.