About Microsolutions
Microsolutions provides and supports Microsoft Dynamics 365 and Dynamics AX. We are specialists in ERP and have experts in the areas of finance, logistics and production, project and payroll and administration. At Microsolutions, you will also find core competencies for Dynamics Sales, Human Resources and Power BI.
Competent and Reliable
Microsolutions consists of a team of 44 employees in two departments in Horsens and Glostrup, respectively.
Microsolutions' consultants have a solid experience ensuring that you, as a customer, receive competent and reliable assistance and advice. In our approach, our focus is on making sure that you get the maximum benefit from your solution.
Microsolutions' core competencies are solutions for logistics, trade / wholesale, production and energy & service.

Microsolutions is Microsoft Gold partner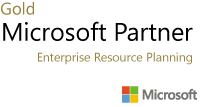 Microsolutions has achieved Microsoft's highest quality stamp; Gold Partner Certification. The certification is a recognition of our solid competencies in Microsoft Dynamics 365; including targeted training / certification of employees, documented quality in deliveries and customer satisfaction.
As a Gold Certified Partner, we have extended access to training and support at Microsoft. This ensures that we are always at the cutting edge of the latest technology and on that basis can provide the best service and advice to our customers.
"We see the certification as a Gold Partner as a great recognition of our work in Microsolutions. This can be done through our training/ certifications and knowledge within Dynamics 365."
Contact
If you want to know more about what Microsolutions stands for or what we can do for your company, please contact us. Contact us by phone: +45 75 60 24 80 or fill out the form below.