Dynamics 365 for Manufacturing Companies
Optimize production, logistics and processes
In a production company it is important to continuously optimize production and logistics, read about how Microsoft Dynamics 365 Supply Chain can help your company.
With Microsoft Dynamics 365 Finance and Operations, your company gets a strong ERP solution that creates coherence and streamlines the workflows throughout the company. Create a solid foundation for reducing inventory, source goods and planning the company's logistics optimally. Overall, it contributes to increased efficiency across the entire organization.
Advanced Production Management
Microsoft Dynamics 365 for Finance and Operations is a high-tech ERP platform. The ERP system supports the whole way of thinking in Industry 4.0. Dynamics 365 for Supply Chain Management, which forms part of the application, offers methods for managing all production activities. BOM production, batch order and kanban for LEAN production can be easily handled in the system. Microsoft Dynamics 365 for Finance and Operations supports both the project-oriented and the series-producing company.
At Microsolutions, we specialize in in-depth know-how in production. Benefit from the Opportunities with Industry 4.0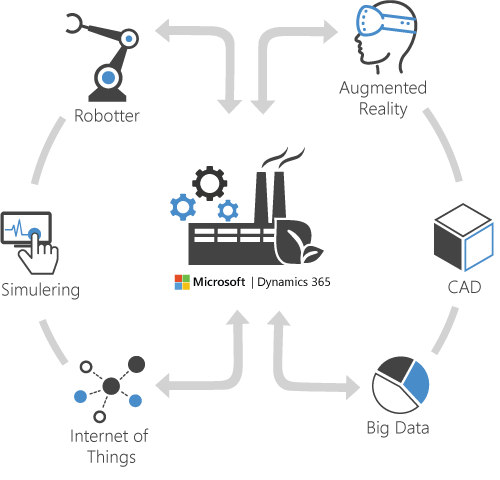 Achieve benefits, overview and efficiency with 
Industri 4.0
 in conjunction with
Dynamics 365 for Supply Chain Management
. Dynamics 365 is an ideal platform for collecting, processing, using and sharing data. Integration to e.g. MES systems, CAD systems, robots, and simulation systems can advantageously contribute to optimizing, streamlining and creating value as well as contributing to the digital transformation in the company. Easy setup and management of integrations from
Dynamics 365
is achieved by using the
Microsolutions Integration Framework. Ask Microsolutions for sparring about Industry 4.0 and Dynamics 365.
Let Dynamics 365 create Efficiency in your Business
Create flow in the Value Chain
Dynamics 365 for Finance and Operations creates the conditions for a flow-based approach regardless of the production methods used. With Dynamics 365 for Finance and Operations for production, you get tools that – via routes – can connect the production processes and fine-tune, initiate, complete reports and recalculate the individual production orders from raw material to finished product. Flows can be created from the supplier to the end customer throughout the value chain.
Minimize waste in the Value Chain
Through data collection of completed and recalculated productions, simple analyzes of production patterns can produce knowledge about production waste and quality problems. Waste types such as transport, queuing and waiting time as well as decided errors can be read directly after production has ended. With knowledge from this type of data, the company's opportunities for production improvements are strengthened.
Capacity planning and cost management
It is a fact that inadequate information about production capacity can lead to increased costs. An increase in the price of the company's products will result in a subsequent lower earnings. Better capacity planning via Dynamics 365 for Finance and Operations contributes in short to increased earnings.
Optimize material consumption and inventory
The warehouse around the batch production and the materials which are consumed through BOM, is controlled via MRP. Microsoft Dynamics 365 is constantly calculating the inventory based on scheduled receipt and departure in the shape of transfer orders, purchase orders, productions orders and sales orders as well as created min./max inventory. Suggestions for new purchase orders and productions orders are hereby created, as well as suggestion for moving/reducing/increasing current purchase- and production orders. 
Kanban can ensure an efficient, visible and systematic flow of materials through the Value Chain with a minimum of inventory and items at work. Kanban is usually controlled physically with a Kanban-card, but these can beneficially be handled in Dynamics 365 via setup of Kanban rules and definition of a re-order strategy.
Increased earnings through optimization
Employees in production can pull the necessary real-time data and follow up on times and cost calculations continuously . With a solid overview of all ongoing and planned productions, any bottlenecks can be foreseen before they occur. With Dynamics 365 for Finance and Operations, you can also reduce the manual work associated with developing, planning and producing customized products and hopefully reduce both delivery times and production costs for the benefit of both customers and the company's bottom line.
Expand Dynamics 365 Functionalities with a Great Number of Apps
Efficient and flexible ERP-platform
Dynamics 365 efficiently supports the cooperation across the organization and can grow along with the business' needs. There is access to chose from a wide variety  of functionalities in the many apps, which is a part of the Microsoft Dynamics 365 suite.
Click in the illustration and read more about Dynamics 365.
Choose a Dynamics-partner with Industry knowledge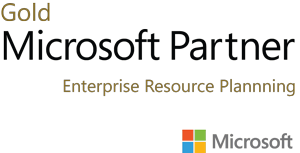 Get a partner, that knows and operates within the productions industry. Microsolutions has a great number of customers with production and a detailed knowledge of productions processes, value chains and standard work processes in a production company. 
A close, trust-based collaboration is for Microsolutions one of the cornerstoens when we implement a new ERP system. Out experience shows that long-term relationships create value and a better solution. Our long experience with the development and establishment of Dynamics ensures that you as a customer get a well-though-out and solid solution that creates value for the entire business.
Microsolutions offers to manage the entire implementation of  the Microsoft Dynamics 365-project from start to finish. Our starting point is our well-proven
project-method
, which in connection with Microsolutions'  process tool 
 "Workmodel" 
makes a difference – both during and after implementation. Microsolutions acts as a sparring partner throughout the process. Upon completion of implementation, Microsolutions will be available with the necessary operational support – depending on the company's need.
Contact
Contact us, to find out  more about how we can add value to your business. Call us on: +45 75 60 24 80 or fill out the form below.