Microsoft Power Automate (Previously Flow)
Work Less and Achieve more with Power Automate (Microsoft Flow)
We can not get more hours a day, but we can automate many of the daily workflows that are time consuming.
Microsoft Power Automate, formerly Microsoft Flow, is an online cloud-based service that can automate workflows between business applications. Connect +220 services to sync files, collect data, get notifications directly on your mobile and much more.

How Dynamics 365 Microsoft Power Automate works
Limited only by Imagination
Find work tasks and business processes that can be automated, so that everyday life is made more efficient, working hours are optimized and wasted time is reduced. Standardize the processes that require time and manual handling by activating several services at the same time, both in real time (synchronously) and when something triggers an action (asynchronously). Tie Sales and Marketing together by creating a flow that adds a lead directly in both
Dynamics 365 Sales
and in 
Mailchimp
 when someone with more than 100 followers tweets about the business.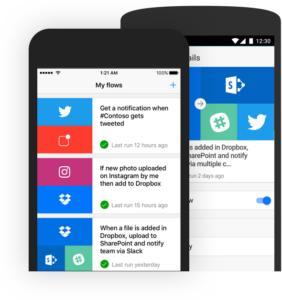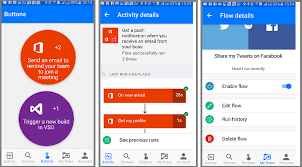 Pick and Choose as You Like
Users can optimize and streamline their individual workflows themselves using an automation we have never seen possible before.
For example, get authentication notifications directly on your mobile or send out scheduled emails based on data changes.
Only the imagination limits the possibilities of implementations, and it is quickly set up.
Power Automate and much more than that
Explore the entire Microsoft Dynamics 365 framework by selecting areas from the figure below.
Efficient and flexible platform
The Power Framework is closely integrated with the entire
Dynamics 365
and the individual applications in Dynamics 365. The overall platform effectively supports the collaboration across the organization and can grow with the company's needs.
Click in the illustration and read more about Dynamics 365 and the Power platform.
Wish to know more about Microsoft Power Automate?
Call us on +45 75 60 24 80 or fill out the form below and we will contact you.